Voucher $250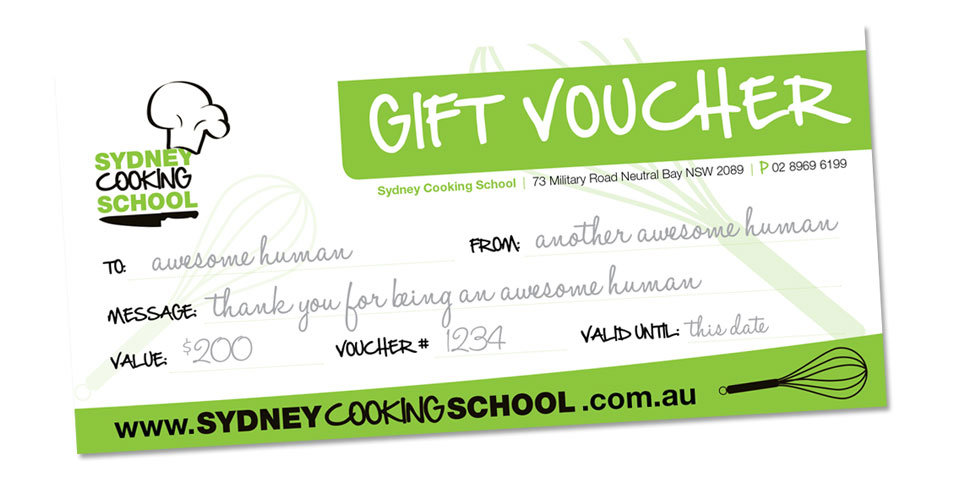 A Sydney Cooking School Gift Voucher is a gift that everyone will enjoy, young or old, for any occasion. An ideal gift for birthdays, Christmas and farewells.
With over 30 cooking classes to choose from we know they'll find something fabulous to enjoy.
Sydney Cooking School Gift Vouchers are valid for 3 years from date of purchase, giving the recipient plenty of time to book their preferred class on a date that suits. The recipient will be able to book their class online through our website by entering the voucher code at the checkout.

Delivery Options

Order conveniently online entering your details as the Purchaser.
To have the the voucher code and a personalised message sent straight to the recipient add their email address in the Recipient's Email field. If you do not wish the voucher details to be sent to the recipient by email at this time, do not enter an email address in the recipient's email field. Or to have the code emailed to yourself please enter your own email address.
For convenience can print off a blank gift voucher from our website here: https://sydneycookingschool.com.au/pdfs/sydney-cooking-school-dl-gift-voucher-210x99-ol/
If you would like us to post out an actual hardcopy voucher to you or direct to the recipient please enter the mailing address and any details into the Special Request's Comments section.
If you have any queries please feel free to contact us by email anytime or we'd be happy to assist you over the phone.